| | | | |
| --- | --- | --- | --- |
| 'We're not villains!' Harassed moms-in-law unite | | | |
Written by Gurdarshan Singh
Monday, 22 June 2009
 

Bangalore ladies are coming together to break social stereotypes and be heard, reports Vicky Nanjappa.

What's the punishment for bigamy?

Two mothers-in-law.

Now that's a joke Neena Dhulia from Bangalore would not be pleased with! You guessed it -- she is a mother-in-law. But Neena is also the co-ordinator of the 500-strong All India Mother-in Law Protection Forum (AIMPF).

The Forum was born on September 6 with a loud and clear message: We are not what we have been made out to be in saas-bahu serials.

"Enough is enough," she says adding, "It is time we too ensured that our voices are heard."

Neena points out that even though there is a National Commission for Women, it is unfortunate that they don't listen to the grievances of a mother-in-law with the same enthusiasm that they listen to the complaint of a daughter-in-law. "Why this discrimination?" she asks.

The response, according to forum members, has been great. It started off with 50 women and ten days later the strength has grown to 500!

Members claim that the forum has generated a lot of interest, not just within the city but also nationally.

And like every growing organisation, this one has plans of expansion too. "The Nagpur and Chattisgarh wings will open up in a few days' time while wings at Delhiand Mumbai are on the anvil," Neha says.

Thank the harassed husbands

If you're wondering how this brilliant idea came about, you probably have to thank (or curse) the harassed husbands.

Save India Family, which works for harassed husbands, conducts periodical meetings at the Cubbon Park in Bangalore. The mothers of several of these husbands accompany them to these meetings.

According to Neena, it was during one such meeting that the germ of the idea was born.

Over cups of tea, it was decided that mom-in-laws needed a voice too. "We realised that we also need to form a group of our own to forcefully put our points across," she says.

Moms-in-law are not bad!

Indeed, that is the message that the forum wants to get across. Members told rediff.com that they want to wipe out the mental image from society that the mother-in-law is always the bad one in a relationship.

Says one, "There have been many cases where women have filed false complaints against their husbands and mothers-in-law and walked away with the booty. We have tried going and convincing the NCW about our problem but they have not been kind enough to us. It is worse when we are dragged into police stations. Without uttering a word, the police take into account what the wives have to say. In fact, they entertain verbal complaints and without so much as bothering to inquire into the allegations, they harass us. We think that if we stand united through this forum we can ensure that we too are heard."

Wake up, Ekta Kapoor

The other objective of the forum is to ensure that the soaps on television stop showing the mother-in-law in such bad light.

According to Neena, women grow up watching television serials where the mother-in-law is depicted as a vamp. The wife walks into her husband's house with that image in mind, which causes all the problems.

"We are not vamps or villains as television serials make us out to be. It is time we change the stereotype thinking -- it has to happen immediately. Statistics show that many women today are independent and cannot be overpowered. And with the law in their favour, they don't hesitate to misuse it," Neena says.

With like-minded people joining them every day, members of the All India Mother-in Law Protection Forum promise that they will not rest till 'the image of the mother-in-law is changed in the eyes of the society'.

So the next time you take a dig at your mom-in-law, think again.
---
This is one Shimla Declaration that adds an intriguing twist to the meaning of freedom and independence. While Prime Minister Manmohan Singh spoke of the nation's growth in his Independence Day address in the Capital, in Shimla, the summer capital under the British, a group of men and women at that very moment declared they were better off in the British Raj. That freedom to them was still a dream.
What SIFF claims
55,200 married men commit suicide every year (57,593 for 2007) as compared to 30,000 married women, according to the National Crime Bureau.
98% of dowry harassment cases are false. Married women have been extorting money from their husbands by threatening them with false cases.
13 lakh men lost their jobs between 2001 and 2006, mostly due to frivolous cases lodged by wives.
The Save Indian Family Foundation (SIFF) comprises young, angry, "harassed" husbands, who claim they represent 25 NGOs and 40,000 equally "tortured" persons like them. Their grouse: they were being "betrayed" by those who framed laws and enforced them; that the law erroneously assumed all wives were "innocent angels" who could only be sinned against, and are not sinners.
At the end of the two-day meet, the participants announced that they would no longer take things lying down and declared the SIFF's Shimla Declaration that Section 498A of the Indian Penal Code and Domestic Violence Act, 2005, was "unconstitutional".
Flashing their red caps and attired in colourful T-shirts with slogans loudly decrying 498A and certain other laws, about 100 key members of the SIFF spat venom. To them 498A is the biggest evil and they spoke of it as our freedom fighters did of the Rowlatt Act and Simon Commission, calling it equally draconian. When asked about their wives, they retorted: "Ex-wife, please." But was she a housewife, was the next question? "No, a house-breaking wife." And they screamed in unison: "Do as we say to save the families."
There's a little known world in urban India which seems ridiculous in its existence. "Help, my wife beats me," could only invite guffaws from people around you with specific notions of male domination, and you might even be relegated to the lunatic fringe of society. But the complaints extend to strange circles. As in the case of a senior IAS official and the principal secretary of the West Bengal Government who wouldn't find food for dinner day after day because his wife threw it all away and a software engineer whose harassment was so severe that a high court judge termed it "legal terrorism".
At the Shimla conference, SIFF members sounded agitated. Each one had his sad story to share. Like Punebased software engineer Atit, 29, who was booked under Section 498A just because he had asked his wife to take adequate rest and proper medicines instead of attending late-night movies and day-long shopping while she was unwell. Nagpur-based real estate agent Rajesh Vakharia was put behind bars as his wife had filed a false dowry harassment case against him because she didn't get along well with Vakharia and wanted separation.
For a long time, these were stray cases, but now the country's harassed husbands and their families have decided to unite. They feel that they have enough evidence to show that "men's welfare" is as important as women's rights issues in India, and they are making a consolidated effort to make it known to the Government.
What started as a small group on a website on March 10, 2005, is now a movement. In several cities, the "harassed" husbands and relatives meet weekly. "The idea is to counsel them how to fight the law and other forces," says Nitin Gupta, who coordinates meetings in Chandigarh on Sundays. While Delhi has Crime Against Man cell run by advocate R.P. Chugh, Ahmedabad has the Akhil Bharatiya Patni Atyachar Virodhi Sangh and Mumbai has the Protect Indian Family Foundation which has not just husbands, but even fathers, mothers and sisters as members.
What men want
One unverified complaint under Section 498A IPC lands a man and his family in jail. No probe is done to verify the tenacity of the complaint.
The Constitution states that no person shall be tried twice for the same offence. However, in a harassment case, the man and his family face multiple litigations, prosecutions, trials for the same cause of action.
Under the Domestic Violence Act, men aren't provided protection against abuse by their wives and in-laws, and the complainant woman's sole testimony is considered as evidence of violation enough to convict the man.
So is husband-beating just an urban malaise, brought on by spouses who both work and therefore deal with constant squabbles over equal distribution of household chores, or is it the declining moral fabric? Not quite. In 2005, the Sehore district in the Bundelkhand region of Madhya Pradesh witnessed quite a turnaround in terms of harassment cases.
The district's police-run family counselling centre recorded that the cumulative complaints by men outnumber those by women (468 by men against 449 by women). In 2005, the numbers reached new heights-of the 125 recorded cases, 78 were filed by men seeking protection from their wives. A survey conducted by the Orissa State Commission for Women found that between 2002 and 2007, 567 cases were recorded in the state of women torturing men, with the numbers showing a sharp rise.
The SIFF has so far held seven protest marches against "women-oriented laws", but this conference is a watershed as they now have their charter of demands to be presented to the Government. With 40,000 members and the number set to increase, the foundation leaders are happy. "Now harassed husbands and their family members know they are not alone as they've the moral support to fight the misuse of these laws," says Bangalore-based Pandurang Katti, SIFF's founder member.
Is it really that simple? Criminal psychologist Rajat Mitra, who is director of the Delhi-based NGO Swanchetan and works closely with the Delhi Police, acknowledges that a large percentage of false cases are also filed "because the police is passive and unwilling to investigate the genuineness of a complaint".
However, in a male-dominated society, the claim that men have become the weaker sex and are being discriminated against sounds a trifle hollow, even though husband-beating and husband-baiting seems to be on the rise, if the statistics bandied about in Shimla are any indication. Marriages, they say, are made in heaven. The Shimla Declaration suggests that it could very well be designed in hell.
-with inputs by Ambreesh Mishra
---
Shimla Declaration of the National Conference of the Save Family Foundation.
Introduction:
Save Indian Family (SIF) movement is a non-funded, self-supported movement and has been formed with a multi-dimensional strategy to form at least 100 NGOs all over India working in the area of Men Welfare. On the 15th of August 2009, 100 leaders from at least 25 NGOs representing 40,000 members participated in a 2 day National Conference in Shimla with a resolution of not to celebrate the Independence Day on August 15 this year.
Brief Background:
Leaders of the SIF movement feel that India is not an independent and a democratic country because men in general and married men in particular are being discriminated against to the point that their constitutional rights are being infringed and challenged especially those granted under Articles 14,15,20 and 21 of the Indian Constitution – the mother of all Indian laws.
1. Article 21 of
the Constitution
provides for Right to Liberty, however today one unverified complaint of mental and/or physical harassment from the wife under Section 498A of the Indian Penal Code lands a man and his old parents, pregnant sister and minor children behind bars and his Right to Liberty is challenged as neither is any investigation being done to verify the tenacity of the complaint nor evidence is collected to corroborate the allegations.
2. Article 20 of
the Constitution
says that no person shall be tried twice for the same offence, however, in marital matters the man and his family face multiple litigations/prosecutions/trials for the same alleged cause of action under Section 498A of the Indian Penal Code, Domestic Violence Act, Section 125 CrPC (maintenance), Section 24 of the Hindu marriage Act, Divorce case, child custody case etc. These multiple and parallel litigations for same alleged offence clearly and blatantly violates Article 20 of the Indian Constitution.
3. Article 15 of
the Constitution
says that for the weaker sections of the society including women and children, the Govt. shall provide for Special Provisions to work for their welfare. Nowhere does it give the Govt. the liberty to formulate special, redundant and gender biased laws against the natural principles of Cardinal Justice. However, the laws mentioned above have been formulated and this practice is in violation of the Article 15 of
the Constitution
of India.
4. Article 14 of
the Constitution
provides for Right to Equality before law. However, in Domestic Violence Act, firstly men are not provided protection against domestic abuse from their wives and in-laws and secondly the complainant woman's sole testimony is considered as evidence of violation of protection order enough to convict the man. Both these practices do not place men and women at equal footing before the law as men face severe discrimination and their Constitutional right under Article 14 is challenged.
Under such a scenario, the men's rights NGOs under the aegis of the SIF movement have lost the significance of celebrating Independence Day as they feel India is not a democratic country but a fascist country where arbitrary arresting a particular section of the society is considered as social service. SIF Leaders feel celebrating Independence in a country, where the Constitutional Rights of men are not respected, is like insulting freedom fighters like Bhagat Singh, Netaji Subhash Chandra Bose, Chandrashekhar Azad, etc.
Major Concerns:
Ø 123,000 innocent women (mothers, sisters and other female relatives of men) have been arrested in the four years period (2004 – 2007) whereas even the so called "Barbaric British Govt." arrested only 40,000 women in 40 years.
Ø Every year on an average 55200 married men are committing suicides with the number shooting to 57593 for 2007 vis-à-vis 30000 married women as per National Crime Records Bureau. Whose life is in more danger? Is the pain of a mother/sister less when she loses a son/brother?
Ø 98% of dowry harassment cases filed against men have been found to be false and it is the wife's family who has been extorting money from the man by treating them as FREE ATM MACHINE by threatening them with false allegations and dragging them into frivolous and malicious prosecution.
Ø In the five years span (2001 – 2006) an estimated 13,00,000 men have lost their jobs – a vast majority of them due to frivolous and arbitrary arrests – whereas 14,00,000 women have gained employment. Who needs empowerment, men or women?
Ø Men pay 82% of the taxes and more tax than women at the same salary level.
Action Points:
Ø SIF declares Section 498A of the IPC and Domestic Violence Act as Unconstitutional and demands a National Level Committee be setup which would include SIF Leaders as well to investigate into the constitutionality of these laws.
Ø Institute National Commission for men to study men's issues and give recommendations to the Govt.
Ø Form Men's Welfare Ministry to address men's issues.
Ø Replace the word "Husband" and "Wife" with "Spouse" and "Man" and "Woman" with "Person".
We conclude the Shimla Conference with this.
---

  
Husbands seek separate ministry for men's welfare
Shimla, August 15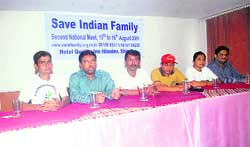 While the entire country celebrated Independence Day, for these harassed men, most of them in the prime of their bright careers, the day holds no significance when those very laws meant for protecting women are being misused to hit back at their innocent mothers and sisters who too happen to be women.
The second national meet on the "Save Indian Family" in progress with participants relating their bitter experiences to the media at Shimla on Saturday. Tribune photo: Amit Bhardwaj
---
Kicking daughter-in-law or divorce threat not cruelty: SC
A husband and his relatives cannot be prosecuted for "cruelty" towards wife merely because the mother-in-law or other family members had kicked her
or for that matter threatened her with divorce, the Supreme Court has held.
Similarly, if a mother-in-law gives constant sermons to the daughter-in-law or allegedly treats her shabbily by giving her used dress suits, it does not invite prosecution under Section 498A of the IPC, a bench of Justices S B Sinha and Cyriac Joseph said.
However, if the mother-in-law takes away the gifts given to the couple at the time of the marriage, it amounts to "breach of trust" as specified under Section 406 IPC, the SC said while dealing with an appeal filed by South Africa-based NRI husband and in-laws in a matrimonial dispute case.
"Allegations that appellant No 2 (mother-in-law) kicked the respondent (daughter-in-law) with her leg and told her that her mother is a liar may make out some other offences but not the one punishable under Section 498A.
This will not be a breaking News or NCW/WCD does not feel the child is a victim as the Child do not have the voting rights.
This clearly shows how bad such law and how easy to misuse the same and still LAW mkers and women orginasations says, misuse is not a ground for stop the loophole int he law.
On the other hand , judicery still silent and had not taken any action who had done this and promoted the legal terrorism.
This expose the whole activity og gamge and great combinations of  Police, Laywers, Judges incapability , forget about the complint wrong doing and abuse of criminal Justice system, as it is not a crime for her, as our LAw makers had given them the whole sale free lincence to do that.
We can only say :If they does not know the law they must sit at home an listen to wife as told by his senior's Markendya Kutju.
Filling a criminal case like 498a/DV act etc became like ordering a Pizza or a Cup of tea.
Wonder when Indian men will wake up and stop this legal terrorism in india.
| | | | | | |
| --- | --- | --- | --- | --- | --- |
| By: Kranti Vibhute |   | Date:  2009-06-21 |   | Place:Mumbai |   |
Two-month-old Zoya gets dragged into a dowry harassment case filed by her father's first wife. Legal experts, child rights activists react in shock at her having to get anticipatory bail to avoid arrest

In a case straight out of Ripley's Believe It Or Not, the Mumbai Sessions court last Wednesday (June 17, 2009) granted anticipatory bail for what must have been their youngest applicant ever a two-month-old baby: Zoya aka Mehak Shamshuddin Khan. Lucky for her, or Zoya could have ended up behind bars.


Mother Reshma Khan of two-month-old baby Zoya said the family was called for an inquiry to Nehru Nagar police station. She sat there with the baby in her arms for 10 hours without reprieve, from 1 pm till 10 pm. She even had to feed her baby in front of the police and visitors

Zoya, who has got bail on a surety amount of Rs 10,000, is a member of the Khan family from Kurla who have been accused by Shakila Khan (27) in a dowry harassment case and for a criminal breach of trust. The sessions judge S N Sardesai in his order granted bail for seven of the eight applicants who applied for the anticipatory bail.

Shakila lodged a complaint against Zoya's father and her divorced spouse Shamsuddin Khan at the Nehru Nagar police station and named the entire family in her letter, including Zoya, her biological mother (Shamsuddin's second wife), a neighbour and four relatives. Shakila accused them of harassing and demanding dowry of Rs one lakh and torturing her, the police said.

Khan's lawyers Anil Bhole and Lata Vhotkar said the police initially thought that the matter would be resolved between both parties amicably. "However, when Shakila submitted a complaint letter against Shamsuddin and his family in which his second wife Reshma's baby was also mentioned, he had to rush for anticipatory bail for all his family members," said Bhole.

The police registered the case on Wednesday evening against Khan and his family members, acting on Shakila's complaint letter submitted earlier.

"Shakila and Shamsuddin divorced two years ago and he has since remarried and had Zoya with his second wife," said Nasim Bano Khan, Shamsuddin's mother. The entire family, apart from Shamsuddin, was summoned to the Nehru Nagar police station on Friday for questioning. "We were at the police station from 1 pm to 10 pm. Who would have looked after my baby while we were being questioned by the policemen? Our baby is so small, so I have to still bring her along every time," said a distraught Reshma.

'It's unheard of. The people who mentioned the baby in the complaint must be crazy!' 
Ram Jethmalani, senior criminal lawyer

'This is hilarious and unheard of.' 
Rohini Salian, ex-chief public prosecutor
'I can't believe my ears, it's bizarre!'
Mohammed Afzal, activist

'It's amazing that such an order could be passed for a baby.'
Girija Vyas, chairperson, National Commission for Women

'I can't believe my ears'

Zoya's case has stirred up a strong response. Former law minister and senior counsel Ram Jethmalani said that it was the most ridiculous thing he had ever heard of. "It's probably unheard of even in any other part of the world where a two-month-old baby has to apply for bail. The people who mentioned the baby in the complaint must be crazy!" Similar sentiments were echoed by former senior counsel Rohini Salian, "This is a hilarious and unheard-of episode," she said.

Others were more cutting. Criminal lawyer Dinesh Tiwari said that apart from being an unprecedented case, it was a failure on the part of the police and the judicial process. "There should have been some verification of the applicant. How can a complaint letter naming a two-month-old baby be blindly considered in this manner?" asked Tiwari. Consumer activist Mohammed Afzal said the case highlighted the need for proper judicial guidelines. "I can't believe my ears, it's absolutely bizarre," he said.

Others chalked it up to the lack of awareness. "It's really a laughing matter, but it highlights the ignorance that exists amongst the police and judicial force. It's amazing that such an order could be passed for a baby," said Dr Girija Vyas, chairperson, National Commission for Women.

"The commission will look into this particular case to give us insights into the issues of child jurisprudence, which we are currently examining," said Dr Shanta Sinha, chairperson, National Commission for Protection of Child Rights (NCPCR).

Sociologist Nandini Sardesai said that the move was probably an attempt on the victim's part to get her case noticed.

"To begin with, it's strange that dowry is an issue in a Muslim family, but it reflects the pernicious carryover of a Hindu custom to other communities for their own benefit. Cases of dowry harassment often go unnoticed and this inclusion of the baby was probably to gain some attention and to sensationalise her case.

As for the police, it's no surprise that they often don't know the legalities since they're either apathetic or ignorant."

The case so far
Police have filed a case against Shamshuddin Khan (divorced husband of Shakila), his second wife, daughter, mother, brother, two sisters and one neighbour for dowry harassment (section 498), criminal breach of trust (section 406) and acts done by several persons in furtherance of common intention (section 34). Shamsuddin's bail application was rejected and he was arrested by the Nehru Nagar police station on Saturday.

Children faultless until seven
"The child is presumed to be innocent until the age of seven and it's presumed that until then the child does not understand the difference between good or bad, crime or no crime and there is no Mensrea (intention to commit an offence is absent). Thus the child cannot be punished nor can any case be registered against it. Once the child is seven or above, he is a juvenile and can be tried under the Juvenile Offenders Act by the juvenile courts. In this case since the baby in question is only two months, there is no need for seeking anticipatory bail, nor for the court to grant such bail," explains ex-mayor of Mumbai and advocate Nirmala Samant Prabhavalkar.

For nearly nine hours, Zoya was in her mother's arms while police officials made inquires on Friday. "It was embarrassing to feed my baby in front of the police and while other visitors moved around us. While my statement was being recorded, Zoya continuously cried. That irritated the policemen, but they didn't understand how hard it was for me to take care of my two-month-baby and answer their questions," said Reshma.

When Prakash Kale, senior police inspector of Nehru Nagar station, was asked why the baby was dragged into the matter, he rubbished the claim, saying, "No complaint has been filed against the baby, but since her name was mentioned by the complainant (Shakila) in her letter, the entire family applied for anticipatory bail."
---
Mumbai: In diapers, lying in her mother's lap and yet to sprout teeth, but Zoya is an accused in a dowry harassment case. The two-month-old baby was named along with seven adults by her stepmother in a complaint letter to the police. What is worse is that the police has included the child's name in the FIR.
Zoya - who should be playing in crib - had to spend several hours in a police station with her mother, foregoing food and sleep and came very close to being arrested.
Her mother, Reshma Shamsuddin Khan, pleaded with the police. "Sahab ye toh choti bacchi hai. Iska aapne kaise complaint le liye. Toh woh bole nai kuch problem nahin hai, hota hai saat-aath saal ke bachi ka bhi hamare paas case hai. Tab humney socha ke court jayenge. (I told them that she is a baby and how can you write her name in the FIR. The policemen said that it was no big deal and that they had other cases against young children too. That's when we decided to go to court.")
Not surprisingly, Zoya is the youngest bail applicant before the Mumbai Sessions Court. She was granted anticipatory bail on Sunday and is now safely in her mother's care.
The defense lawyer, Ashok Bhole said, "My client called me and told me everything. I saw that the child's name was also in the complaint, so I quickly filed a bail application in the sessions court."
Meanwhile, legal experts are stunned to say the least.
Advocate Usha Makasare says, "It is crazy. Unheard of. We will have to see under what circumstances the court has given this order."
In all this, one wonders what prompted the complainant to drag the child into the mess and worse still, was it right for the police to have even called the child to the police station? The officer who is to blame for this bizarre incident has now been suspended and the child's name removed from the FIR.
(With inputs from Sholeen Damarwala in Mumbai)
'The officer who is to blame for this bizarre incident has now been suspended and the child's name removed from the FIR. " But the women who filed such a vogus complin, against her no action, then how you expect the same not will repeted in other area?
Does the women have all wholesale free lincence to do the crime and get scot free??
That is the point one should ask themself.
---
For more reference :
Last Updated ( 2009-09-18 04:10:16 )