| | | | |
| --- | --- | --- | --- |
| Two years on, stir against DV Act-Delhi-Cities-The Times of India | | | |
Written by Administrator
Monday, 27 October 2008
Two years on, stir against DV Act-Delhi-Cities-The Times of India
NEW DELHI: Swarooplata today is a broken woman. Accused of domestic violence by her daughter-in-law, the elderly woman has nowhere to call home. Her son Gaurav too is in deep trouble. Charged with violence by his wife, he is bankrupt after paying compensation running into lakhs of rupees to his spouse. "I don't know where my son is today. My daughter-in-law filed a case against me and my son under the Domestic Violence Act and I had to leave the house. Today I don't have a roof over my head," Swarooplata cried.

Shobhit Kapoor (33) was a senior manager with an IT firm before being booked under the Domestic Violence Act by his wife. His life now revolves around numerous court hearings. He has not only lost his job, he is also denied access to his two-and-half-year-old son who suffers from a kidney ailment. Though he pays maintenance to his wife for his son, he claims the child is not getting the medical treatment he requires.

Swarooplata and Shobhit were among a group of people who demonstrated at Jantar Mantar on Sunday, demanding an amendment to remove "discriminatory" provisions in the Protection of Women From Domestic Violence Act. The protesters claimed the present law had many loopholes and unleashed "legal terrorism" on those at the receiving end.

Assembled under the banner of Gender Human Rights Society (GHRS), Mothers and Sisters Organisation (MASI), Save Family Foundation and other NGOs, the second anniversary of the enactment of the Domestic Violence Act was described as a Black Day by the protesters, who submitted a memorandum to the government, seeking a review of the law.

Said Swarup Sarkar, coordinator, Save Family Foundation: "The DV Act should be replaced by a more gender-neutral legislation and equal protection should be provided to men and women against physical, emotional, verbal and economic abuse."
(Names of alleged victims have been changed)
---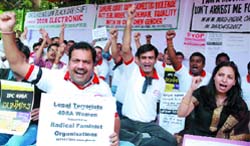 Members of Save Family Foundation and NGOs hold a dharna to protest against the misuse of women protection laws. They demand gender neutrality of Domestic Violence Act at Jantar Mantar in New Delhi on Sunday.
Tribune photo: Manas Ranjan Bhui
---
Further for more news :
---
New Delhi, (PTI): Demanding amendments to undo the "discriminatory" provisions of the Domestic Violence Act, a group of activists held a demonstration in the capital today and said the law was unleashing "legal terrorism" on elders and women.
Assembled under the banner of Gender Human Rights Society (GHRS), Mothers and Sisters Organisation (MASI), Save Family Foundation and other NGOs, who observed second anniversary of enactment of DVA as 'Black Day', protesters also submitted a memorandum to the government seeking a review of the law.
"The provision that has been the most misused is Section 19 of the Act that allows a woman, who claims to be victim of domestic violence, to evict her husband's house of his family members," said Sandeep Bhartia, President of GHRS.
"It has led to several cases when senior citizens have been thrown out of their homes which they built out of their life's savings, with nowhere to go," he added.
Besides, the issues of unlimited compensation, provision of appointing only women activists as service providers or protection officers and that of multiple maintenance cases were also highlighted as being loaded against the husband and his family.
The clauses, along with the fact that the law treats an accused "guilty until proven innocent" have unleashed "legal terrorism" against the accused elders and women.
"The law is heavily loaded in favour of the wife and leads to victimisation of women from the husband's family, who are often put behind bars for indefinite periods," said Preeti Chauhan of NGO the All India Forgotten Women.
"Equal protection should be provided to men and women against physical, emotional and economic abuse," she added.
The law has also come in for criticism from the Supreme Court, which said in a judgement that some of its provisions were "clumsily drafted," said Bhartia.
---
Bangalore: 
Sunday marked two years since the Domestic Violence (DV) Act came into effect. But some men observed it as black day. They say the act is inhuman since it ignores men completely.

Mohan (name changed, 30), a civil engineer with a construction company, had an arranged marriage two years ago and says he is being beaten up by his wife daily. "She wants to have control over me and wants me to do everything she says. My brother stays with me and she doesn't want me to support him or give money home.
 
Whenever she finds out that I have helped my family, or we have an altercation on the matter, she beats me with wooden sticks and iron rods," he said.

Mohan is forced to stay away from his house on several occasions. "I have sometimes hit her back. Then she threatens to complain to the police. So, whenever she starts beating me, I go out and stay with my friends," he said.

Shoes as missiles

Ritesh (name changed, 32), a software engineer too faces the same problem as Mohan. 

'There are shoes flying at me'

Only here, his wife hits him with shoes and slippers. "She wants me to hand over all my salary to her. She dictates everything to me and wants me to live as per her way. Only when I object, she starts hitting me. 

There have been times when I enter the house and there are shoes flying at me," he said.

Wife's affair

Rajesh, (named changed, 34), who works on night shifts, had a different problem. His wife used to have an affair with her former lover, while he was at work. She would even go away to his place for a couple of days. 

Each time she came back and he refused to take her back, her parents would arrive and plead with him to take her back, assuring it would not happen again. But after some time, it would resume. When he finally decided not to take any more of this, they foisted a dowry case against him. He had to go into hiding until his friends managed to put together all they could get for bail. 

He has filed a divorce case, but his wife is refusing to give him a divorce. Instead, she is asking for a huge maintenance. 

So, who's the victim

Viraj Dhulia (28), techie by profession and spokesperson of Save India Foundation, says that false cases of domestic violence were slapped against him. 

"I had an arranged marriage and two months after the marriage my wife went to her parents' house in Kolkata as per the custom. She did not come back and said that I had to separate from my parents. I am the only son and couldn't do so. 

"She said that she would break the marriage. Her parents then lodged a dowry harassment case in Bangalore and I spent two days in the jail before I could come out on bail. They demanded Rs 20 lakh to withdraw the complaint which I could not afford. 

"Two weeks later, they filed a domestic violence case and demanded maintenance of Rs 20,000. All the allegations were false. They returned to Kolkata and filed another domestic violence case demanding Rs 30,000 as maintenance. The cases are going on. As per the interim orders, I am paying Rs 4,500 to her as monthly maintenance," he said.

Where's equality?

Viraj says that the Domestic Violence Act violates the constitution itself. "The Constitution says that men and women have equal rights and also says that all are equal before law. But the Domestic Violence Act is gender-specific and gives protection only to women. There are men also who are subjected to violence and abuse, but they have no protection.

According to the Domestic Violence Act, the police have to believe that the women are always honest victims. 

Without even investigating, the husband and other people named can be put behind bars. Worse still, as per this act, a mother-in-law cannot complain of violence against the daughter in law," he said.

As per the DV act the husband has to even pay maintenance to the wife. "Because of this, the Act has been misused several times," he said.
---
Last Updated ( 2008-10-27 05:34:17 )